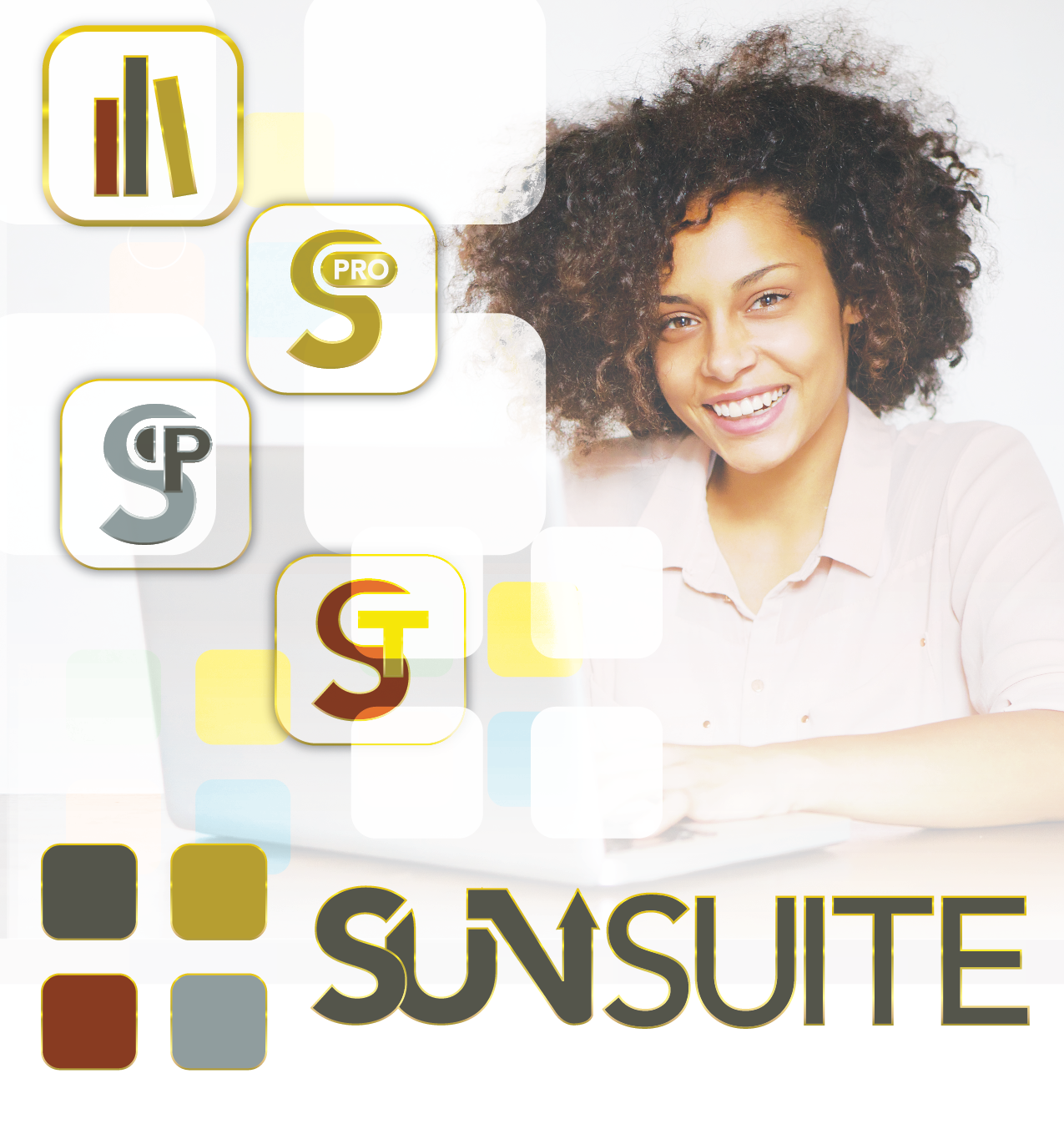 SUN Suite
SUN Suite is a collection of business and financial apps designed to help you set realistic goals, monitor business progress, and enhance your audience engagement.
Details
From structure to financial planning, SUN Suite apps help you plan a successful, sustainable business. Discover how to connect with your audience and promote real business growth. Available as a Suite or download individual apps.
SUN CFO Pro
SUN CFO Pro helps you make informed business decisions based on clear financial data:
Monthly and annual revenue projection

Helpful graphs and charts for data review

Exports to Microsoft Excel and Google Sheets
SUN Project Planner
Real-time analytics for planning sustainable programs, offering:
Labor Cost Control

Inventory and Supply Management

Collaboration with Team Members
SUN Talks
Practical insights and business advice from industry experts:
SUN Talks Videos

Interactive Learning Guides

Podcasts
SUN Books
A digital library of content combining text, images, videos, and audio all in one place:
Interactive business plan

Lessons plans compatible with Google classroom

Exports to Microsoft Word and Google Docs
SUN Suite
Business planning in the palm of your hand.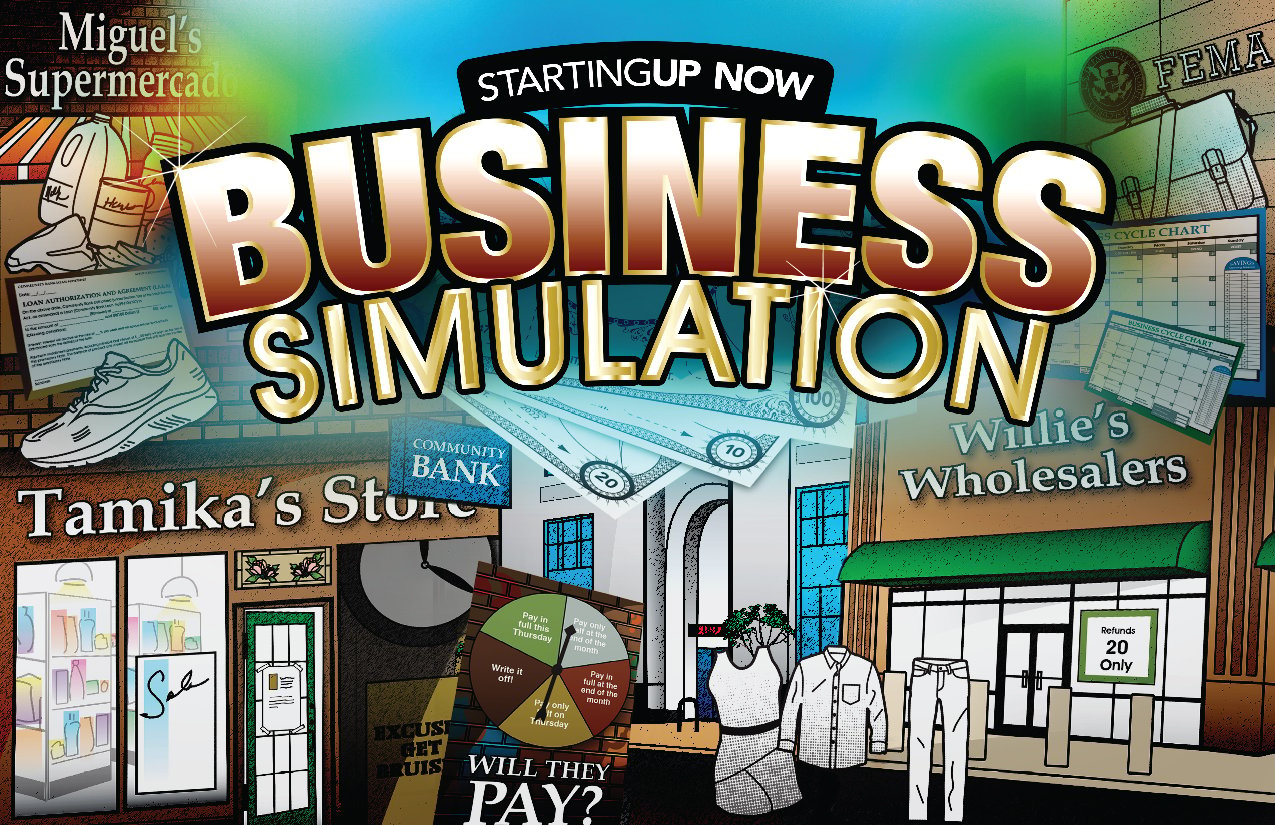 SUN Business Simulation Game
$795 (plus tax and shipping)
The StartingUp Now Business Simulation Game teaches business principles in a high-energy, action-packed format that's fun for youth and adults. Perfect for classrooms, board rooms, and community organizations.
Details
From product manufacturing to selling in the marketplace, participants learn valuable business operations and leadership principles applicable to real life. Buy raw materials to create products, secure capital, allocate funds, plan budgets, marketing campaigns, and more!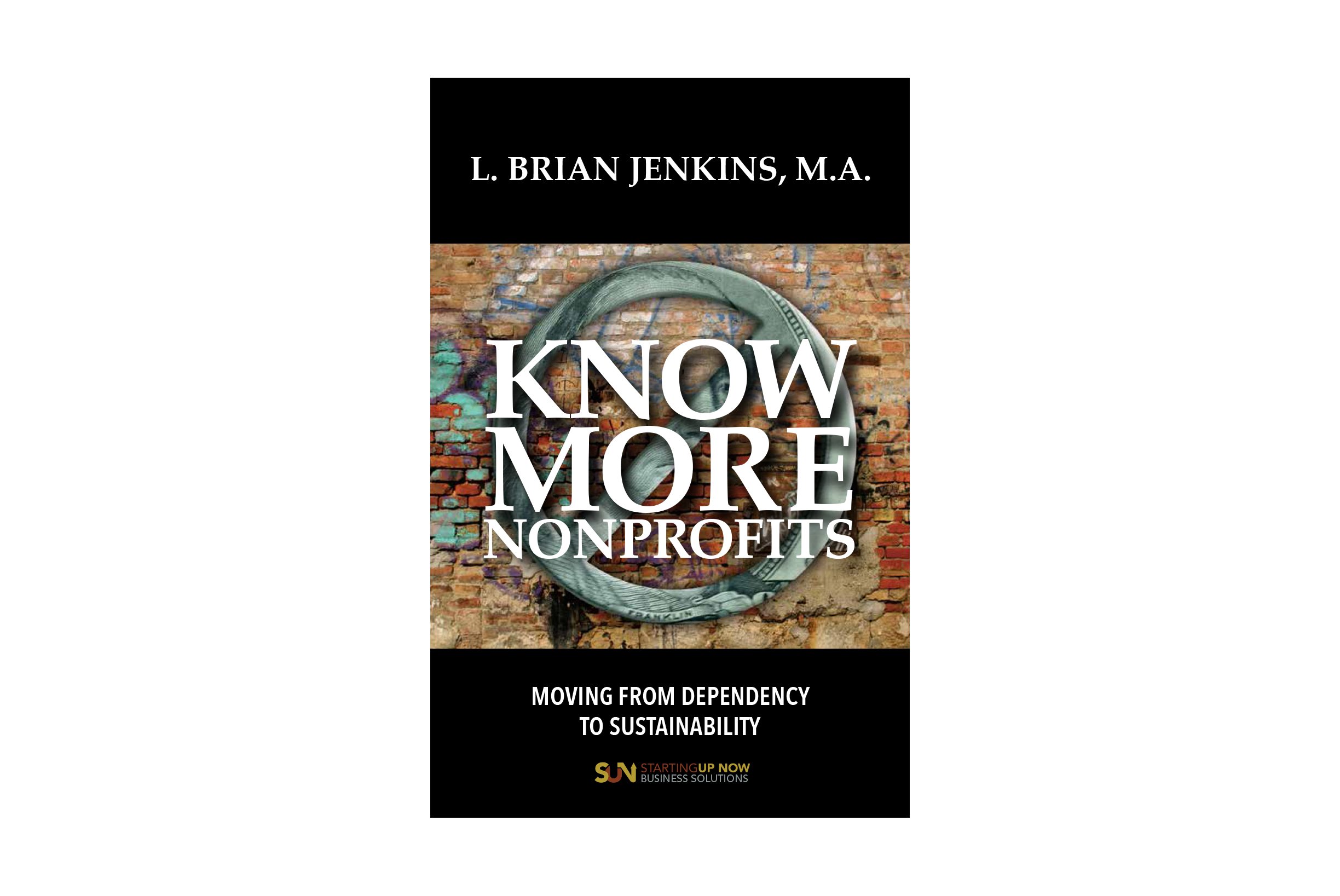 Know More Nonprofits
$19.95
Should you launch a for-profit or nonprofit organization to accomplish your goals? Know More Nonprofits: Moving FromDependency to Sustainability is a personal commentary and solution-based treatise written by L. Brian Jenkins exploring the history of the nonprofit industry and its impact in Black and Brown communities.
Details
Get impactful solutions to successfully navigate the funding landscape and gain insight into cultural, racial, and historical barriers African-American and Latinx nonprofit leaders typically face to secure funding. Discover how to stay focused on your mission and plan sustainable programs that attract investors.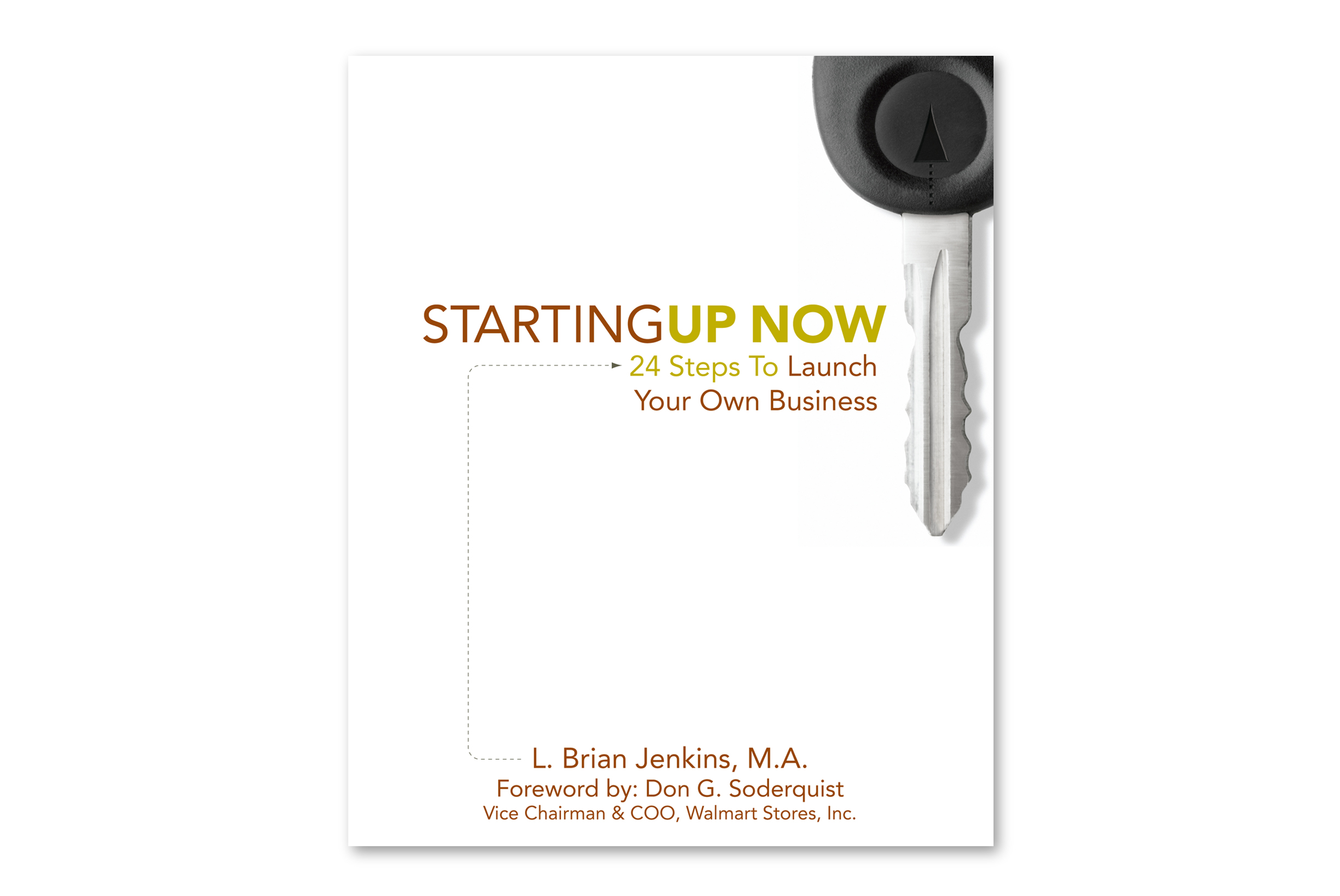 24 Steps
$19.95
StartingUp Now: 24 Steps to Launch Your Own Business is a practical guide through the business planning process. Complete the 24 steps and you have your business plan!
Details
Each StartingUp Key leads entrepreneurs through a memorable abbreviation, informative definition, useful examples, and constructive prompts in a journal-style format that ultimately provides users with the opportunity to formulate their business plan.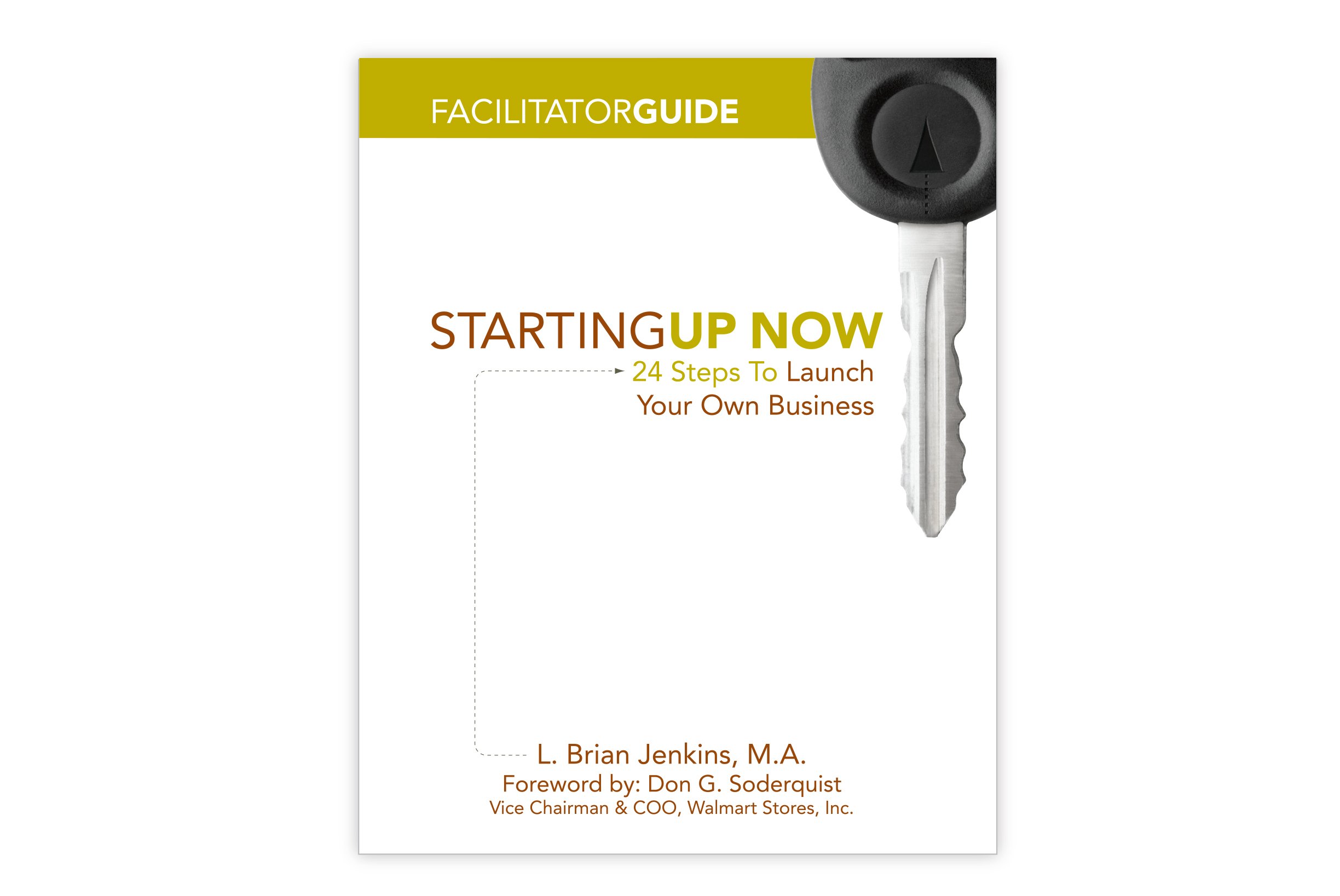 Facilitator Guide
$29.95
StartingUp Now: Facilitator Guide teaches instructors how to use StartingUp Now as a business planning resource for startups, first and secondary school systems, colleges, prisons, churches and community organizations.
Details
With curriculum-based standards set by the Consortium for Entrepreneurship Education, this teacher's edition utilizes these standards as a way to define the processes, traits, and behaviors associated with entrepreneurial success. Includes reference listing to help monitor your student's progress.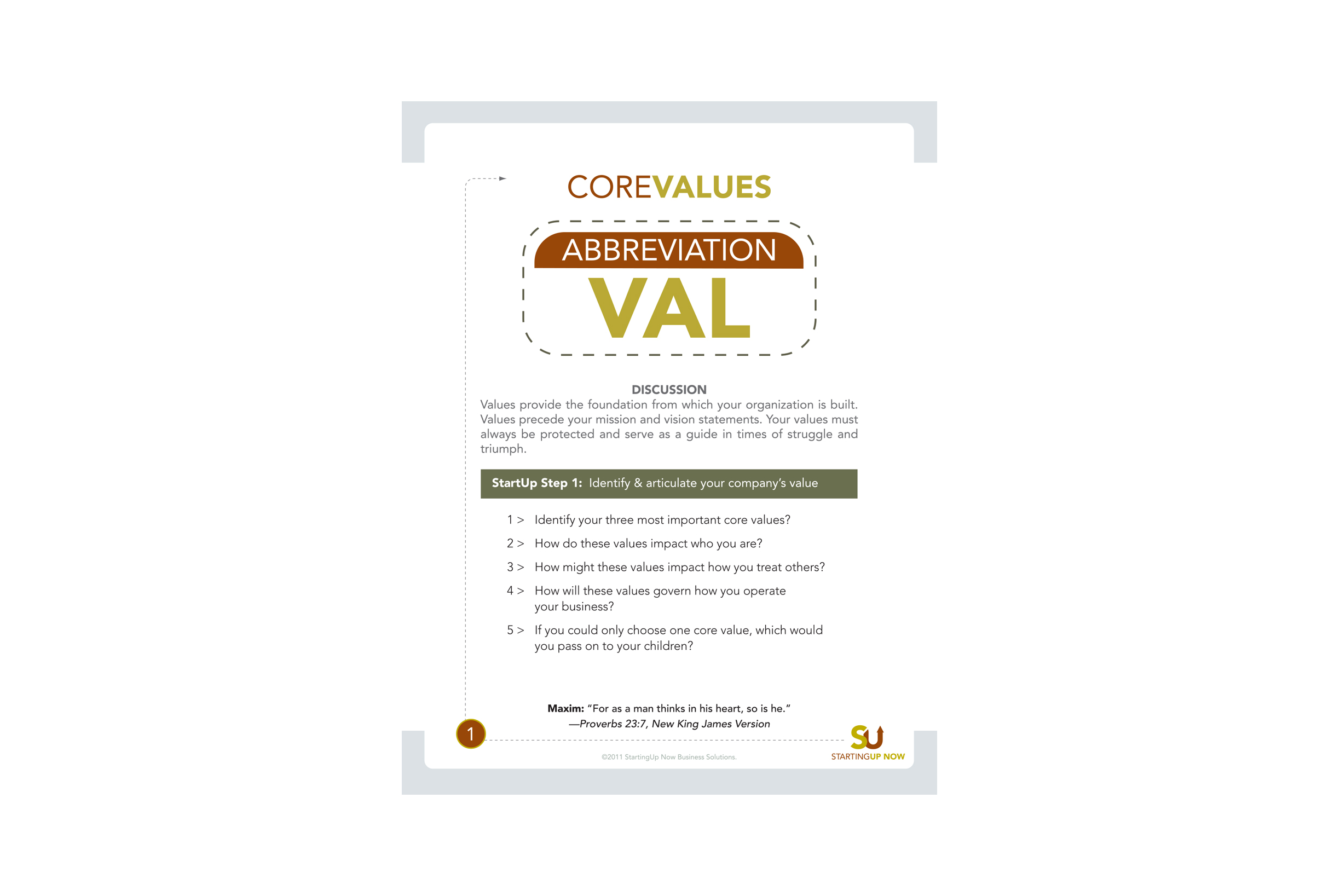 SUN Work Cards
$95
The StartingUp Now Work Cards are visual classroom aids used alone or in conjunction with SUN 24 Steps to deliver a more in-depth look at each key used to build a strong and sustainable business.
Details
SUN Work Cards are the perfect tool for any educator looking to encourage classroom participation and create team-building mindsets, using the SUN 24-steps outlined in individual visual cards. Center the conversations on each key to reveal how each element contributes to good business practices and strong business foundations.
StartingUp Now
Your business is our business.